The return on investment of UWAR Deluxe Family Home Gym and what's included. Ultimate Workout and Recovery provides you the best achievable or imaginable result of its kind. That's exactly what the team at Ultimate Workout and Recovery has delivered! Whether you're maintaining, improving or recovering your physical and mental strength, get fit in the comfort of your own home from your chair, bed, recliner or wheelchair. Our modular, resistance band driven workout and recovery products are perfect for any age, ability or level of athleticism.

Get Fit and Stay Fit. In a Chair or in a Bed!

Made in the USA high quality steel apparatus composed of:
2 bumper stickers, 1 bottle, 1 T shirt, 1 itemized list, 1 assembly form, 1 instructional form
1 upper support (white)
2 vertical supports with adjusting holes (white)
2 Peddler Brackets (white) plus Drive peddler
2 Upper corner weldments (red)
2 lower leg weldments (red)
4 Extend a leg (white)
2 Oak thresholds with 1/4-20 thread inserts
1 large shipping box
1 small shipping box
16 fast pins
4 adjustable feet
4 casters with non-marking wheels
24 snap in grommets
4 thumb screws for thresholds (in plastic bag)
4 thumb screws for upper bar lock
4 3/8-18 acorn nuts for wheel mounting
2 11/4 end caps
1 Packaging material
1 UWAR logo
1 upc code
1 serial number
10 16 inch lifeline cords of 3 different colors
8 lifeline triple cord handles
1 lifeline massage roller
1 pair of lifeline gloves.
1 hand rejuvenation kit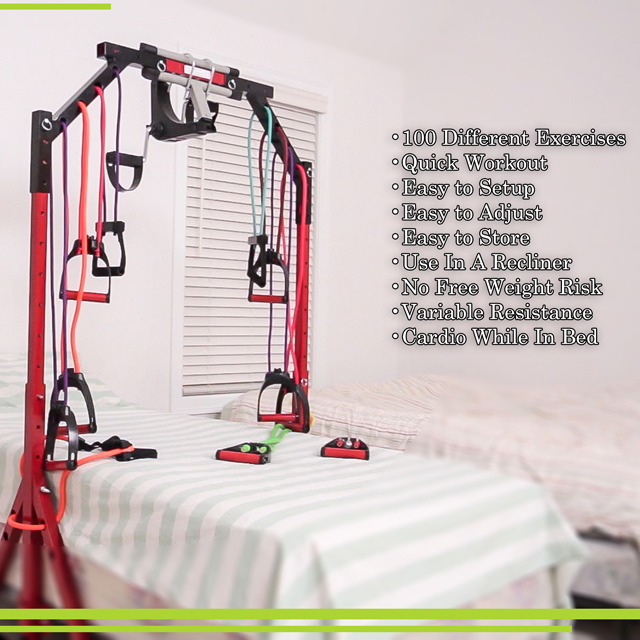 Product provides up to 48 uses including:
Upward, downward, forward motion
Strength training options via bicep curls
Tricep pushdowns
Chest flies
Squats
Abdominal twists
Seated lat rows
and more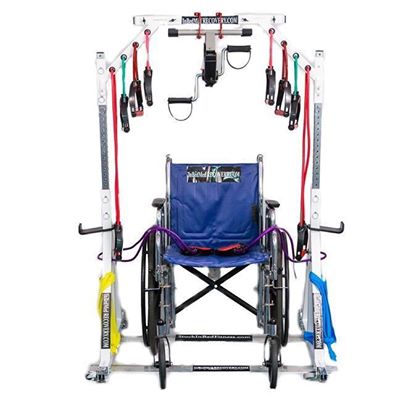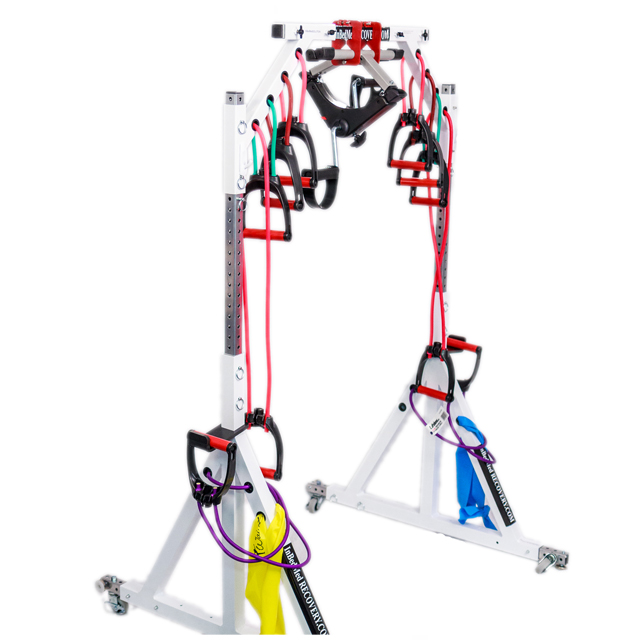 Product also includes motion therapy cardio and sport focused endurance training integrating the cardio pedlar in a unique position as well.
Mobility assistance to get in and out of chair and bed.
Gymnastic and pilates workouts focused on pullups and chinups from a seated position.
Product provides safe strength training options for restless kids of any age,fall risk seniors of any stage.
Portable wheelable adjustable workout on wheels also variable for many situations.
Helps battle depression atrophy and obesity in the most convenient way possible.
Utilized from seated lying down or standing positions.
Adaptable inclusive for any and all special populations and great in helping people rehab and recover from injury surgery or disability. Perfect for coronavirus covid19 recovery.
Perfect for customers who are interested in:

Home health
Home Gyms for Moms, Caregivers, Trainers, Therapists
Clinics dealing with individuals who live with:

Stroke
MS
Special needs
Dementia
Alzheimers
SCI
Injured athletes
Disabled veterans
Pregnant mothers.

Bonus personal training service included with initial purchase.
USA designed. USA made. USA patented and proud. Utilizing the BEST of high quality materials and manufacturing practices.
3 year warranty on apparatus and hardware.