Celebrity Whole Body Fitness Expert
Darci Bawdon
Endorses Ultimate Workout and Recovery Complete Home Gym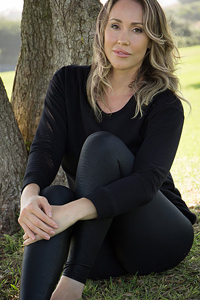 "This is truly the ULTIMATE workout system! You only need FIVE minutes for a great fulfilling workout from your chair or bed or standing up! Highly recommended great investment for ALL moms and caregivers who want to use it with loved ones whether kids or anyone right from their den! Fast fun fitness for your family at its BEST!"

About Darci Bawdon:
Darci Bawdon is one of LA's most sought after whole body health and fitness experts, bringing 15 years of experience training and empowering hundreds of her clients to achieve their fitness goals. As a certified Master Trainer for the groundbreaking Da Vinci Body Board Method, Darci specializes in this unique all-encompassing strength, cardio and fitness training that delivers better results in shorter workouts, while focusing on individual body alignment, form and balance. She combines her passion for health and fitness with her ever broadening knowledge base of high-level training programs to create a positive and encouraging workout environment that motivates and educates her devoted clientele to reach optimal health. Darci has been featured in Shape magazine and Beauty Undercover, training high-profile clients that include actresses Salma Hayek and Sally Field.

Click Here for more information about Darci Bawdon.